This is an inactive lawsuit
Did You Develop Pseudotumor Cerebri, Idiopathic Intracranial Hypertension, or other Serious Injury After Mirena IUD?
Millions of women chose to use the Mirena IUD for birth control because it doesn't require you to have a surgical procedure, and you don't have to remember to take it every day like you do with the pill. Maybe even more important to some women is the fact that Mirena IUD can be effective at preventing pregnancies for up to five years before the device has to be removed or replaced. Unfortunately, thousands of women have suffered serious adverse events while using the device, including brain injuries, uterine damage, infertility and more.
Dangerous Side Effects
While millions of women have chosen Mirena, many are unaware until it happens to them, that the birth control device can cause serious side effects, including the most severe side effects of brain injury and a condition called pseudotumor cerebri (PTC).
Many women who had the Mirena device implanted say they began to experience odd and troubling side effects like blindness and severe pain. Little did they know these side effects could be symptoms of PTC which include:
Severe headache that may start behind the eyes and get worse with eye movement
A whooshing or ringing in the ears that pulses with your heartbeat
Dizziness
Dim or blurry vision
Seeing flashes of light
Difficulty looking to the side
Brief blindness that only lasts for short moments
Double vision
Nausea and vomiting
Shoulder, neck, and back pain
Migraine headaches
PTC symptoms mimic those of a brain tumor, even though there is no tumor. PTC causes a buildup of cerebrospinal fluid which results in intracranial pressure. The buildup of fluid in the skull can cause the optic nerve to swell which may result in blindness. When a tumor is not present, PTC is also known as Idiopathic Intracranial Hypertension (IIH).
Women who have suffered PTC after Mirena say Bayer, the company that makes the device, knew or should have known that use of Mirena causes an increased risk for women to develop PTC, but failed to tell the medical community and their patients about these increased risks. Women who have been affected by the dangerous side effects of Mirena say they would not have chosen to use the device if they had known of these risks.
The link between some of the hormones used in birth control and pseudotumor cerebri has been known to scientists since the 1990s. In fact, the first study to link birth control methods and PTC was published in the New England Journal of Medicine in 1995. The study authors concluded that levonorgestrel was linked to a significant increase in the risk of development of pseudotumor cerebri. Yet, Bayer has yet to acknowledge the increased risks of developing PTC in women who use Mirena, nor have they issued a warning to the public.
Researchers continued to investigate the use of the hormone and in 2015 published a study in the respected journal Therapeutic Advances in Drug Safety that dove into the link between Mirena and IIH. To conduct the study, researchers reviewed the FDAs Adverse Event Reporting System database to determine the odds ratio. Study authors wrote that the number of women who developed IIH after receiving the Mirena implant was higher than expected and called for further investigations.
Higher Risk of PTC If You Gain Weight
Though researchers have not yet determined why, people who are taking the antibiotic tetracycline, vitamin A supplements, and those on steroids have higher odds for developing PTC, as do women who are overweight and those who recently gained extra weight. This is particularly alarming for users, as many women have reported gaining weight after the Mirena birth control device was implanted.
Treatment for Mirena PTC and IIH
Treatment for PTC requires the patient to lose weight and keep it off. Experts have determined that losing weight can reduce headaches, skull pressure, and swelling of the optic nerve. But keeping the weight off is critical to preventing PTC from reoccurring. This can be difficult as women on Mirena may experience weight gain.
When a woman who suffers PTC has headaches, but her vision is still good, the intracranial pressure may be managed with drugs such as:
The mild diuretics methazolamide and acetazolamide to reduce production of cerebrospinal fluid.
Corticosteroids to reduce pressure, but these drugs may cause the patient to gain weight
Topiramate to alleviate migraine, reduce optic pressure, and facilitate weight loss
When a woman is experiencing severe optic neuropathy, surgical intervention may be needed. This can include implanting a shunt in the skull to help drain cerebrospinal fluid and reduce pressure on the optic nerve to improve vision. Be aware that shunting comes with its own risks, including failures and blockages that may require the woman to undergo revision surgery. Treatment may also include optic nerve sheath decompression to improve vision, but this procedure will not help with pressure or headaches.
A relatively new treatment that is being used to reduce pressure in the skull is called venous sinus stenting, which opens the venous sinus wider to allow for greater blood flow. In this procedure, a stent is used to open the passages in which cerebrospinal fluid and blood are drained from the head, through the jugular veins to the heart. This procedure is typically only considered after other treatments have failed.
Mirena's History, Warnings, and FDA Actions
The small, T-shaped Mirena device is implanted in the uterus where it releases synthetic hormones. Bayer reports the birth control device is 99 percent effective at preventing pregnancy and does not harm the chances of becoming pregnant once it is displanted. The device was approved for sale on the market in 2000. The FDA approved the device as a treatment for heavy menstrual bleeding in 2009. Women who have not been pregnant before should not use the Mirena IUD.
In an effort to increase its market share, Bayer began marketing the device to busy moms, touting it as a safe, effective and convenient birth control that would help women feel and look great and even help women better enjoy intimacy with their partner. Bayer used a variety of marketing channels to promote this message, including through live parties.
However, the U.S. Food and Drug Administration (FDA) took issue with the marketing statements made by Bayer and issued a warning over misleading claims about Mirena. The government agency said it was not aware of any evidence that showed that women who use the product have better intimacy with their partners.
The FDA also warned the manufacturer about overstating Mirena's effectiveness, making false and misleading statements, and making unsubstantiated claims that overstate the benefits of the product, but omit contraindications, including that Mirena users may lose their fertility and may lose their baby if they become pregnant while implanted with the device.
All in all, the FDA has received more than 89,000 adverse event reports for Mirena IUD, including more than 36,000 reports of serious injury or death.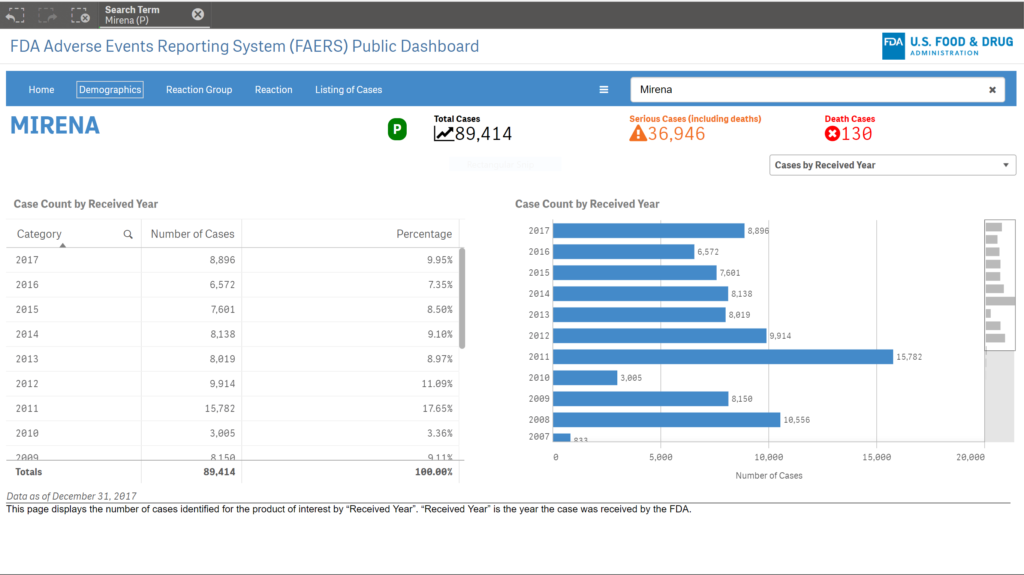 Some of the adverse events reported include chronic pain, uterine perforation, cerebrovascular accidents, ectopic pregnancy, hemorrhage, device migration, device breakage, and embedment. Unfortunately, it wasn't until 2008 that Bayer updated the warning label of the device to include these adverse events.
Mirena Injury Lawsuits
It wasn't until 2014 that women who developed PTC after being implanted with a Mirena IUD began to file lawsuits alleging that the device maker knew or should have known that women who use Mirena have an increased risk of developing PTC, but failed to warn the medical community and their patients about the increased risk of brain injury and blindness.
Further, the lawsuits allege that Bayer used deceptive marketing practices and hid the dangerous side effects of the product, including the risks of PTC. They say the company produced, marketed, distributed and sold a knowingly defective medical product, but chose not to add adequate warnings about PTC to the product label, and failed to instruct health care providers about Mirena PTC.
The PTC lawsuits filed by injured women are in addition to thousands of complaints that have been filed against the pharmaceutical giant accusing it of failing to warn about the risks of uterine perforation and migration of the device to elsewhere in the body. The plaintiffs in these cases also accuse Bayer of using deceptive marketing practices as a way of increasing profits and sales.
If You Have Suffered Injury After Mirena IUD, We Can Help
Many of the women who have suffered PTC, blindness, and other serious adverse events from the Mirena IUD say they would not have used the birth control device if they had known they might develop a brain injury or lose their vision. These women are seeking justice through the courts and are entitled to seek compensation for their injuries including for:
Mental anguish
Pain and suffering
Disability
Lost wages
Diminished quality of life
Other damages
We have a long and proven record of successfully fighting dangerous medical device makers and we will do the same for you. Medical device makers have a high duty to ensure their products are safe and effective. When they fail that duty, patients who suffered injury have rights by law. We have spent decades defending those rights and ensuring our clients get fully compensated for their injuries.
If you were implanted with the Mirena IUD and suffered vision loss, blindness, cognitive impairment, brain injury, or PTC, contact us now. We are aggressive advocates for Mirena victims and we will fight to get you the compensation you deserve.